This could save you time and energy in the future!
Whenever you enter the country, please check your I-94 record to make sure that you were granted the correct status upon reentry into the U.S.  You should do this every time you enter the U.S. in order to check that you are granted the correct immigration status. This is important as you will need a copy of your most recent I-94 to apply for a social security number, to apply for a Texas State ID or Driver's License, or to obtain any immigration services at ISSS.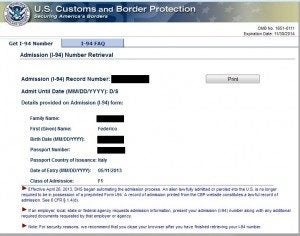 You can always look up your electronic I-94 electronic record by visiting the U.S. Customs and Border Protection website. Please make sure that the following information is correct on your electronic I-94:
The correct "admitted-until" notation (D/S for "Duration of Status" for F-1/ J-1 students only)
Name as it appears on your passport
Birth date
Passport Number
Passport Country of Issuance
The correct most recent date of entry (A short trip to Canada, Mexico, or certain Caribbean islands may not be recorded. If you take a short trip to these areas, you may find your previous entry date still recorded on your I-94 which is normal and not a cause for concern.)
Your correct visa status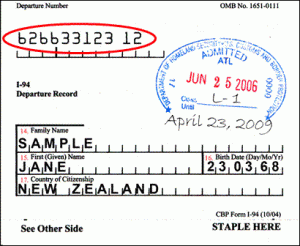 If you entered the U.S. by car or ship, then you would have received a paper I-94 in place of the electronic, online I-94.  It is important when getting the paper I-94 that you also confirm:
Your correct visa status
The correct "admitted-until" notation (D/S for "Duration of Status" for F-1/ J-1 students only)
Your name appears as it is on your passport
Birth date
Country of Citizenship as listed on  your passport
If you find any incorrect information on your I-94 (electronic or paper) or you cannot locate your electronic I-94 record online, please contact ISSS for assistance.
Please Note: If there is an error on your I-94 record, this could affect your status and any related benefits. For example, if you are an F-1 student with expiration of D/S but your I-94 record doesn't show this, then you would not be eligible to apply for OPT until the I-94 record is corrected.
Please take a look at your I-94 record today and let us know if you have any questions!