Whether you are new to the Forty Acres or are looking for more ways to add movement and recreation to your experience, you'll likely find it at RecSports. With their eight recreation and fitness facilities and various programs, activities and events, there are numerous ways to stay active on campus.
We've rounded up the four things you should know and explore at RecSports during your time at UT.
Your student UT ID card is your gym membership.
Any semester that you're enrolled in classes at UT, all you need to access any RecSports facility is your UT ID card or a mobile device logged in to your My RecSports UT EID account. Access to RecSports facilities is included in your tuition. RecSports facilities feature weight room spaces, a variety of courts and fields for different sports, an indoor rock climbing wall, indoor and outdoor tracks, functional training spaces, swimming pools and more. Check out the various facilities at the links and map below!
Wright-Whitaker Sports Complex (10 minutes away from campus)
Whitaker Courts (10 minutes away from campus)
Don't just exercise, TeXercise.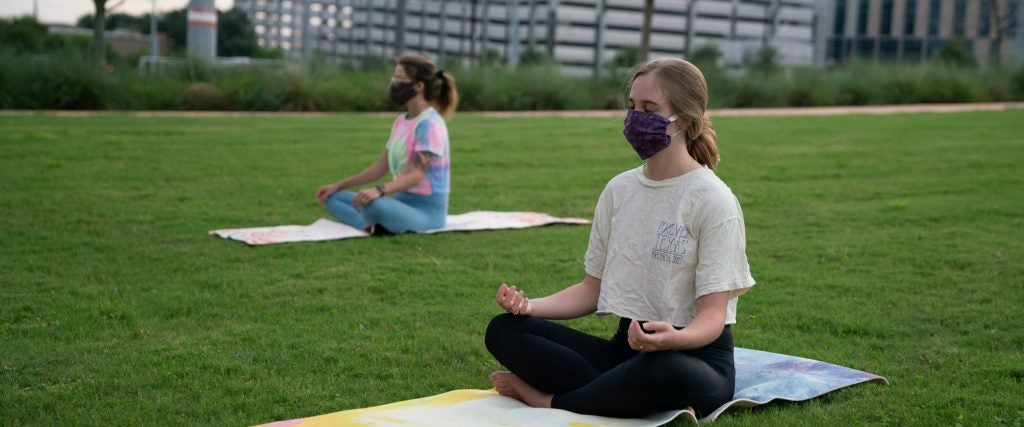 RecSports offers a group exercise program – TeXercise – that helps you stay active both in-person and online with a variety of formats including cycling, F45 training, yoga, Zumba, Total Body Conditioning, POUND®, and more, led by certified fitness instructors. TeXercise on Campus offers in-person classes at convenient locations, with advance reservations encouraged and a community of fellow Longhorns to keep you motivated. To participate in TeXercise, purchase a monthly TeXercise Pass to enjoy unlimited access to group exercise classes.
Explore your new city, state and beyond.
The Adventure Trip program offers a variety of excursions each semester that are crafted to help you get outside and try new activities. The selection of day, weekend and extended trips are guided by fellow students and UT staff to help you safely explore a new destination, learn new skills and have a great experience. Trips vary in level of activity and experience—ranging from easy to strenuous and beginner to advanced. Trips are open to UT students, faculty and staff, as well as members of the community. Read this Adventure Trips 101 blog post for an introduction on how you can explore the outdoors with RecSports.
Play sports.
RecSports offers three ways to play your favorite sports: informally on your own or with friends, with intramural sports, and through 48 different sports clubs.
Informally: You can always drop in at any RecSports facility to play your favorite indoor or outdoor sports. Right now, COVID-19 restrictions don't allow for informal team play, but when those restrictions are lifted, courts and fields are always great places for pick-up games and you can check out the sports equipment on site.
Intramural Sports: Through a variety of sport leagues, tournaments, and special events each semester, Intramural Sports enables students to compete with and against other students. Gather a group of classmates and register a team to play your favorite sports in the quest for the most famed award there is on the Forty Acres: the Intramural Champion t-shirt. Don't have a team to play with? RecSports is here to help with that. You can sign up for the Free Agents program to get matched with teams needing additional players.
Sport Clubs: The Sport Club program offers an opportunity for students to compete against other colleges and schools through 48 sponsored student organizations. These organizations range from individual and dual sports to team sports and water activities to martial arts. Some clubs hold tryouts for their travel team while others are more recreational in nature. View the full list of sports offered.
Images courtesy of RecSports.