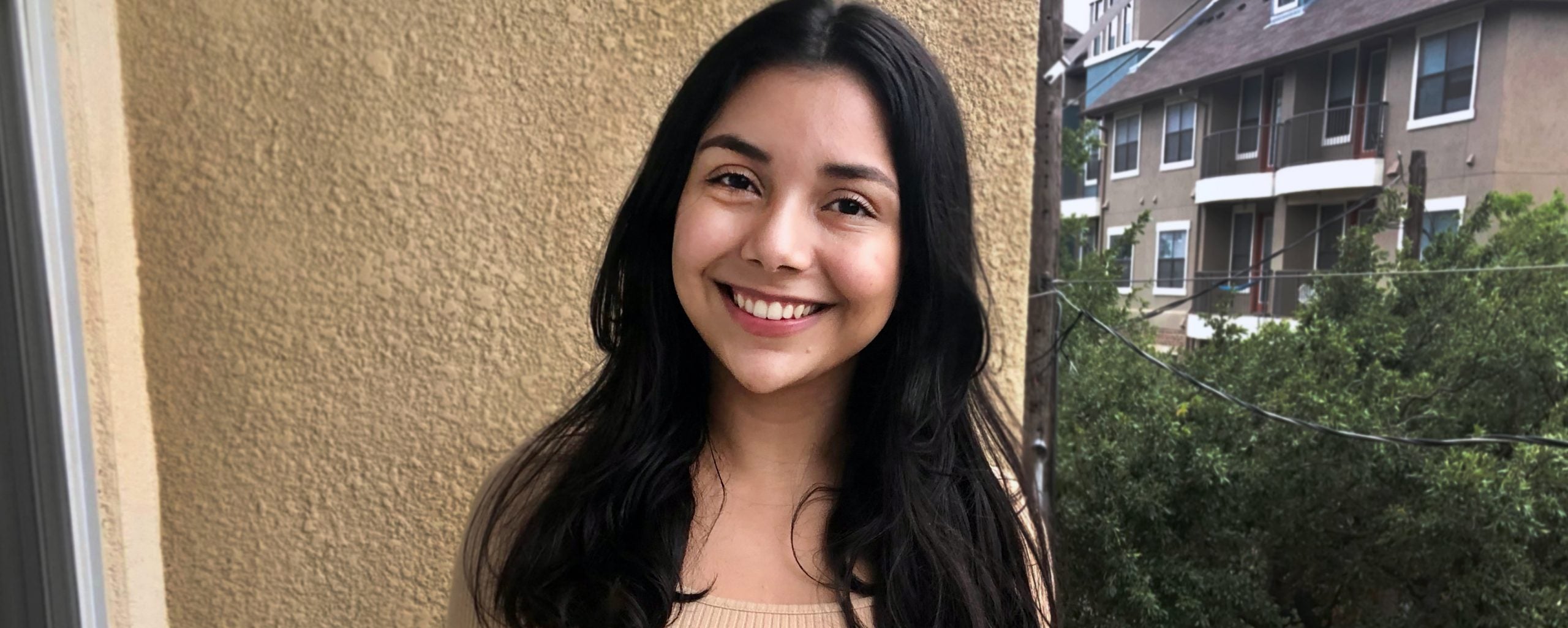 From becoming a President's Award for Global Learning finalist to performing songs in front of her classmates, junior international student Clarissa Abrego is on a determined path to become a master of all trades and jack of none. From Monterrey, Mexico, Abrego is the second of four UT recipients of the International Education Fee Scholarship. The highly selective award covers up to four years of tuition and fees for one incoming international freshman annually, helping them make the most of their university experience by alleviating financial hardships.  
Initially established through a campus referendum at UT Austin in 1987, the International Education Fee has been supporting international education programs in Texas for over four decades. In 1989, three passionate undergraduate Longhorns presented their university's case demanding more funding for international education to the Texas Senate, who approved a $1 tuition increase to create study abroad and international student scholarships. Since then, Texas legislators have continually expanded the fee's scope.  
The Lone Star state's unique position on the southern U.S. border makes it a natural hub for global exchange. The International Education Fee makes it possible for students like Abrego to immerse themselves in this multi-cultural environment.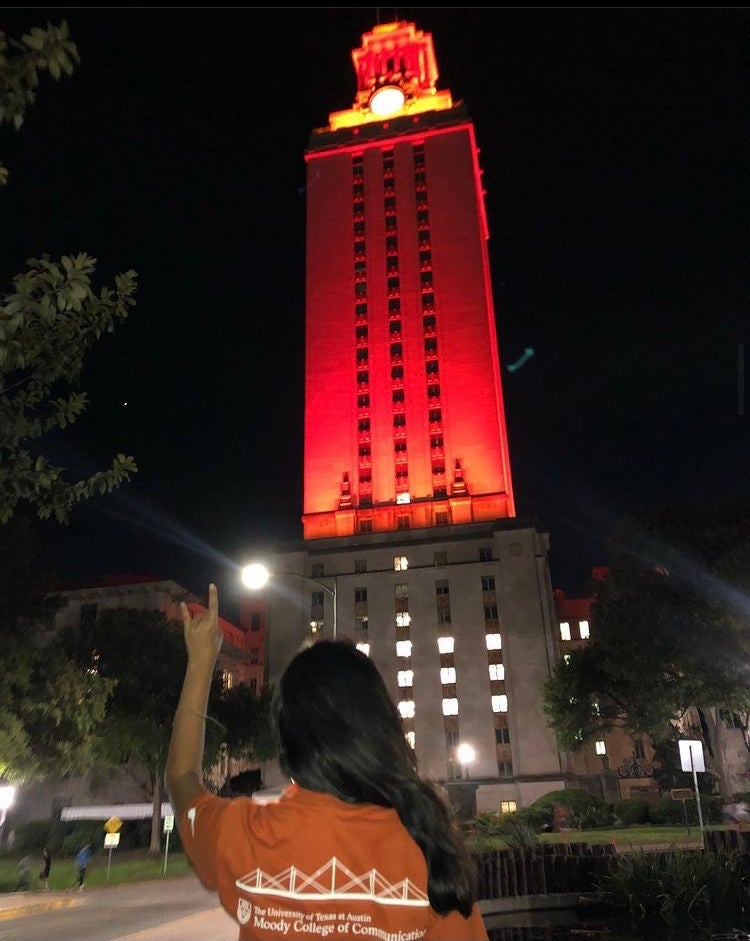 Abrego says the scholarship has lifted a weight off of her shoulders.  
"It's a really privileged perspective, not having to worry about my tuition," she said. "You need to take advantage of that huge opportunity UT is giving you because it allows you to explore classes in a way not many people can. The scholarship allows you to use your time and energy and focus on being a better person, bettering your new community and exploring." 
At UT, Abrego is studying journalism and pursuing a Bridging Disciplines Certificate in design strategies. This interdisciplinary program gives Abrego opportunities to explore human-centered design, the sociological and physiological aspects of architecture and other ways of approaching the world.  
"I've always been interested in how things affect us as humans," Abrego said. "I felt like the certificate added something that I didn't know much about. It was different from my major and writing and reading.  
Access to such programs as BDP and the diverse approach UT takes to learning are some of the reasons why Abrego applied to the university. With more than a hundred majors and minors, Abrego liked that she could build a unique degree path across the Forty Acres.  
"I felt like it was a non-traditional way of teaching journalism," she said. "You could add things to the journalism major that you didn't really see in other schools."  
Abrego realized her love for reading and writing while in specialized programs for gifted children in Mexico. She says these programs taught her the value of engaged professors and peers.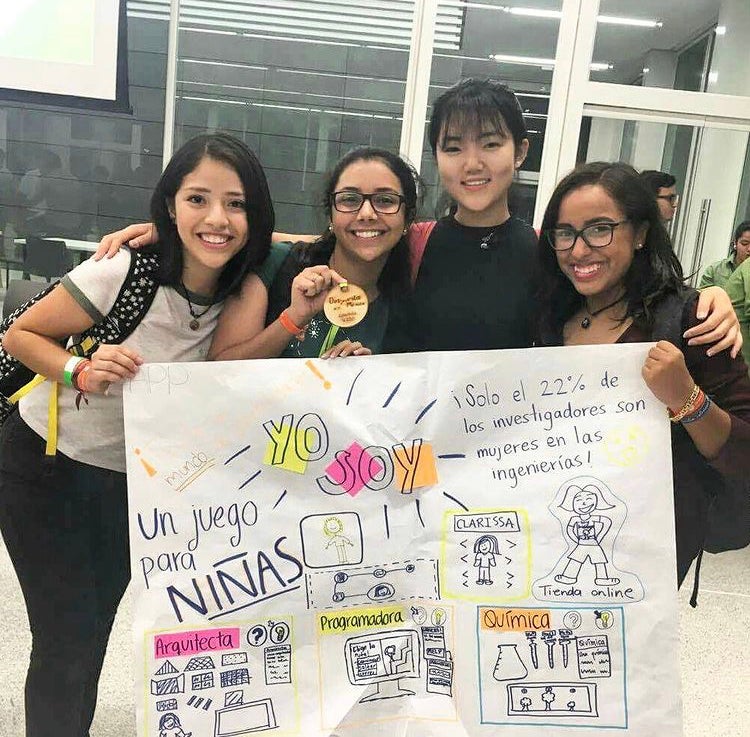 "I loved being in that after-school program with like-minded people that wanted to learn more and were curious and interested," Abrego said. "We had professors that were super passionate about what they did. Even in a class I didn't really feel confident in, it was fun because they cared. I like when people are passionate and it shows: they send you a message, that 'I'm just excited to be here.'" 
This attitude is something that she has continued to seek out at UT, whether it is in the form of supportive journalism professors or teaming up with other Longhorns to address the world's most pressing issues.  
In Fall 2020, Abrego was a finalist for the President's Award for Global Learning. Her team wanted to explore how innovative architecture could address homelessness in Austin. They were inspired by a firm in Paris, France that creates tiny homes for refugees in neighborhood backyards, granting them increased autonomy and creating a more equitable and healthy system.  
Abrego says the experience was rewarding and connected her with people outside of her field.  
"Our team had a really cool mentor in the urban studies major," she said. "I know I'm a journalism major, but I was really interested in how to make things better for people. How do we make experiences that are already hard in their own right better? It was so cool to have a team of people who cared about global issues. It inspired me to want to help others besides myself, to help my community more. Hearing other people's projects, it was like, 'Wow I'm in a really cool school where people care about the world and want to make it better.'"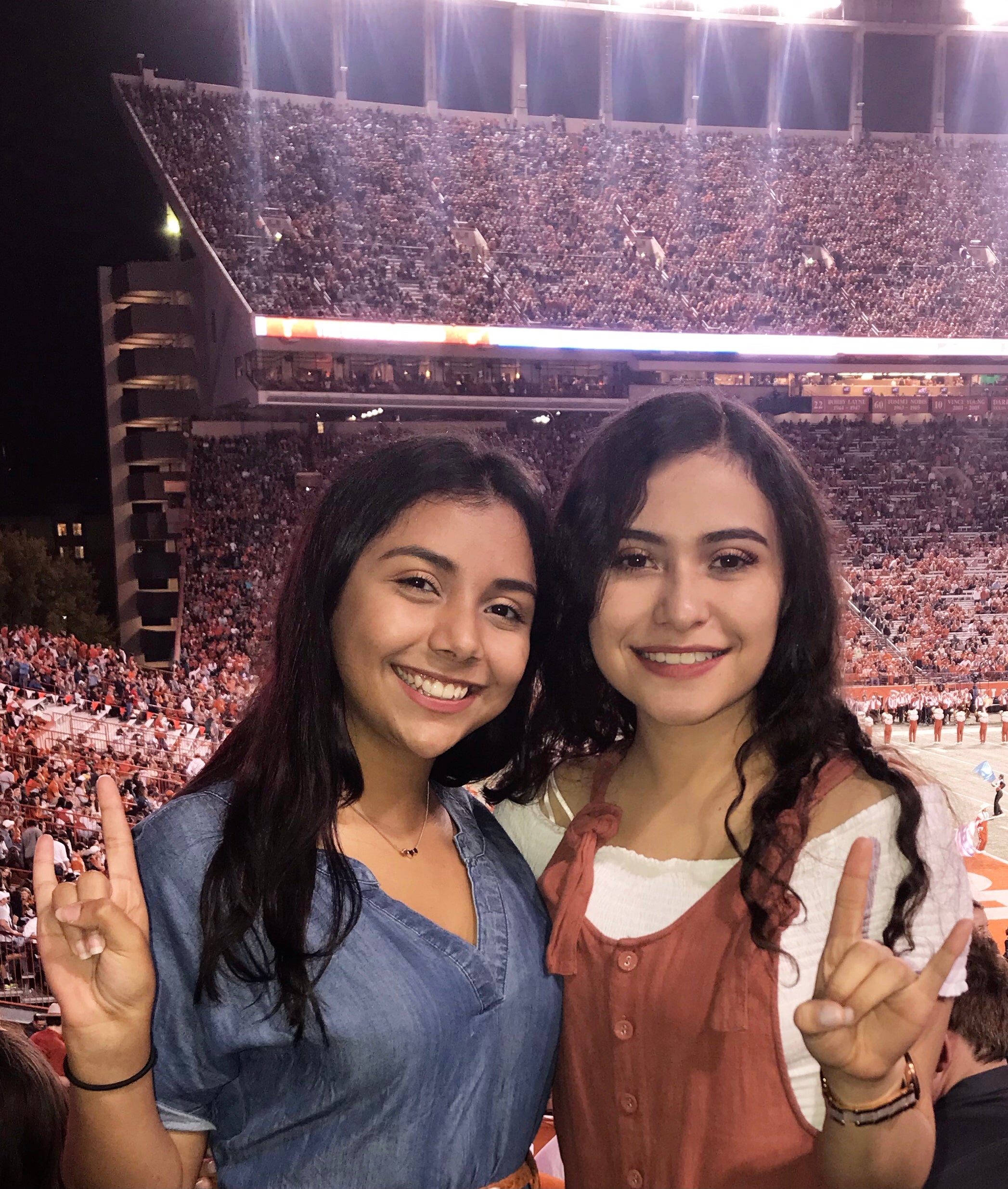 Opportunities like the President's Award for Global Learning and her BDP certificate are not the only ways Abrego has pushed her boundaries and followed her curiosities at UT.  
"Every semester, I join one class where I have no idea what they're talking about or that looks interesting but makes me feel uncomfortable — I took a class where I had to sing in front of strangers with a partner," she said. "It's cool to say I took an anthropology class; I'm a journalism major, but I'm learning so much about so many things in the world. These four years are years to explore because you never know what you will like. I saw this as a moment of growth and an opportunity to explore the world in a different way." 
In addition to these rewarding moments, Abrego faced challenges adapting to U.S. life, including using English in a much larger capacity than ever before.  
"I knew English since high school, but I never had this amount of exposure to the language," Abrego said. "I would have one or two classes in high school and that's it. Having to be thinking and talking and processing everything in another language was definitely challenging but also rewarding because I know I've learned a lot."  
Abrego also faced cultural differences and took time learning how to navigate making friends and connecting with people in the U.S.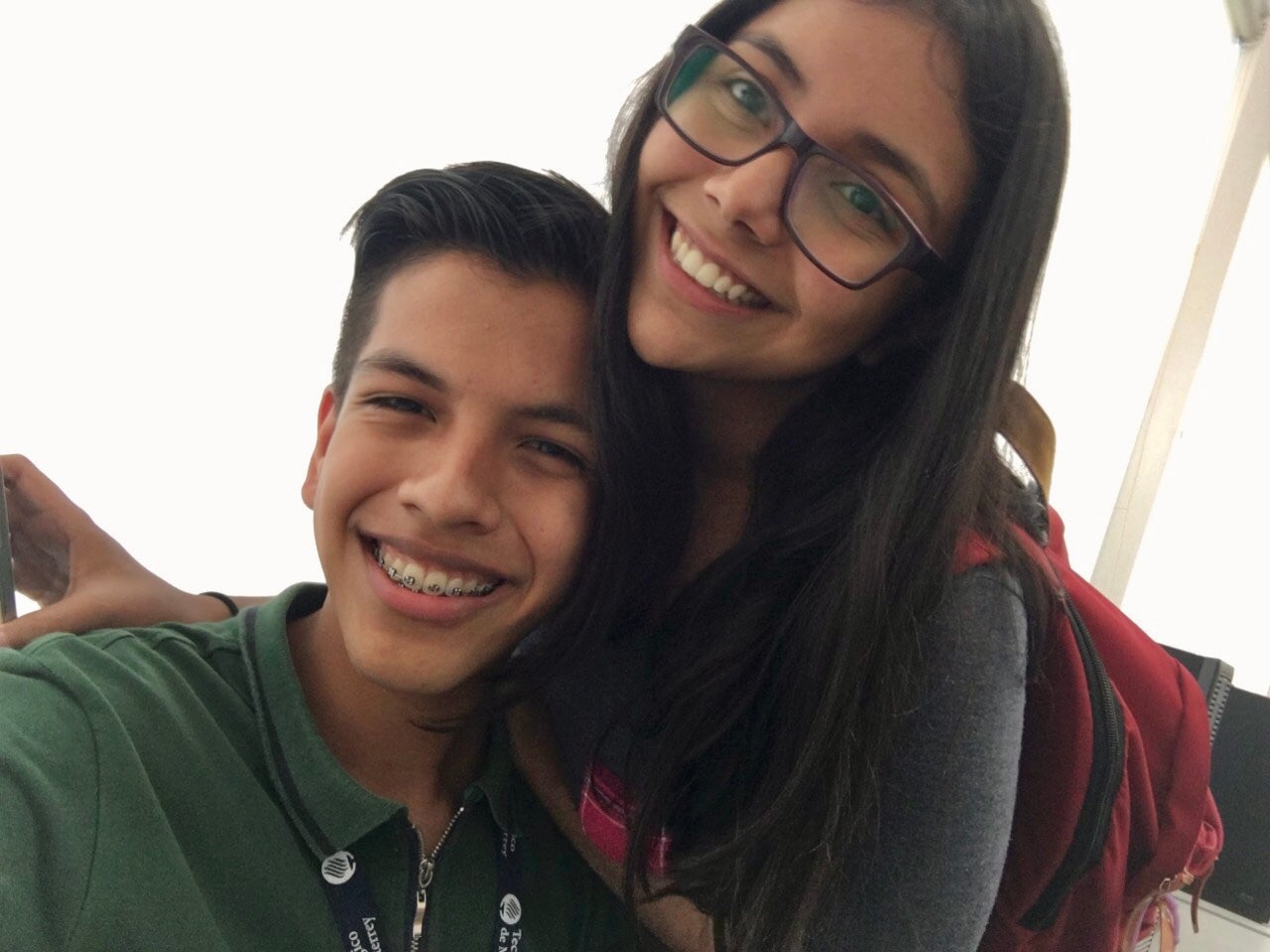 "Generally, in Mexico, the culture is super warm and friendly, and I was used to becoming friends with the person sitting next to me in class," she said. "Then I got to UT, and everyone was in their own head, in their own world, and people didn't really talk. I felt that was weird but then I learned that that's just the way people are, it's not me or something like that." 
Additionally, Abrego faced homesickness, especially when seeing all her friends from home spending time with each other back in Mexico. 
However, she knew she came to UT for a reason. Born and raised in Mexico, she wanted to study journalism abroad to broaden her worldview, a trait she feels good journalism requires.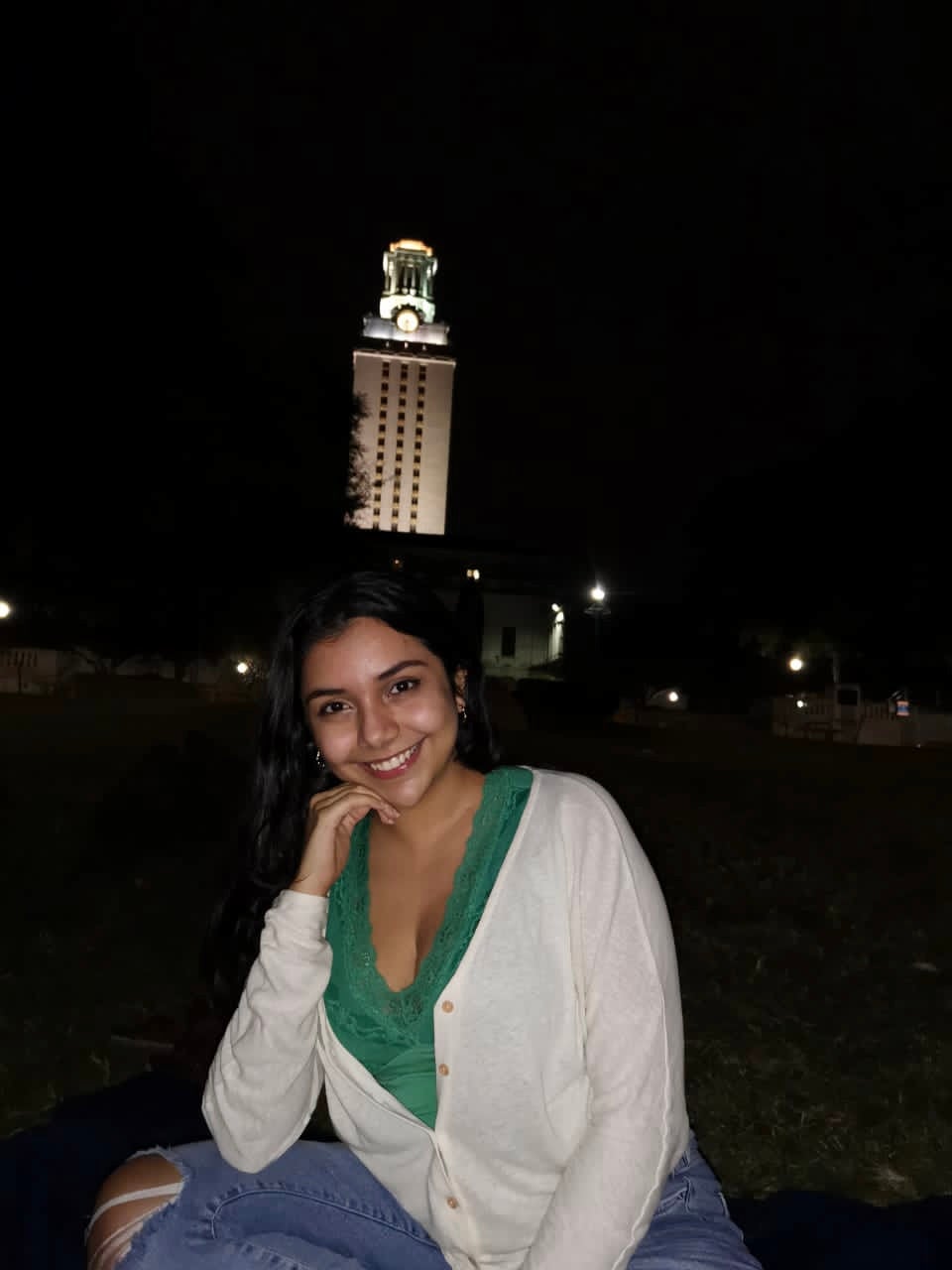 "I've seen things and I've learned things that I wouldn't have in a regular school environment in Mexico," she said. "That's one of the things I really like about UT: they require you to take classes in areas that outside of your major. It's really important for everyone to know a little bit of everything and just to be curious about things. I've gained a lot of knowledge and they've made me more curious about how the world is built." 
After she graduates from UT Abrego hopes to use her newfound skills and knowledge to continue helping people gain access to quality education, shape international policies and create sustainable societies.  
"I hope to maybe become a journalist or a writer, but talk about things that matter, and maybe make people think more about issues or even forget about some issues," Abrego said. "I want to keep writing about human experiences and exploring those areas outside of journalism, work on projects that help people have better experiences. I'm trying to make a better world."