International Student and Scholar Services supports incoming UT Austin researchers from all over the world. Recently, ISSS held a "Meet a Scholar" event, in which three post-doctoral researchers shared their journeys to Austin and projects on campus.  
Marta Cobo Simón is a postdoctoral researcher in the Department of Integrative Biology. Simón grew up in Torrejon de Ardoz, then studied in Alcala de Henares–two regions of Madrid, Spain. Simón recommends travelers visit La Casa Grande, the farmhouse of Miguel de Cervantes, and celebrate Señora del Rosario in the annual floral offerings and festivities.  
While working on her Ph.D. at the National Centre for Biotechnology, Simón discovered that she could blend her background in microbial ecology and animal evolution at UT Austin.  
 "I was so amazed, that I wrote down the name of the principal investigator, Luis Medina [of the University of Texas at Austin]," Simón said. "When I was about to finish my Ph.D., I contacted them, and they said they could offer me a postdoctoral position here at UT Austin in evolutionary biology, microbial ecology and bioinformatics. I'm really happy."  
At UT, Simón is working on reclassifying the bacterial domain based on how bacteria exchanges genes. Soon, Simón will start a new project around global diversity and interkingdom interactions within Texas Gulf Coast waters.  
"I'm going to study not only bacteria but also other organisms, and do lab work and sampling, which is something that I didn't even do during my Ph.D.," Simón said. "That is why it is so important to me to be here in Austin and have this opportunity."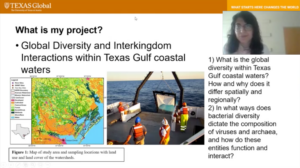 Progna Banerjee, postdoctoral fellow in the Department of Chemical Engineering, grew up in "the city of joy," Kolkata, India. When visiting, she recommends crossing the Howrah bridge over the Ganga River that flows through the middle of the city and exploring the multiple science monuments. Six Nobel Prize winners have called Kolkata home. With a bachelor's in electronics, an M.Sc. in Physics, and a Ph.D. in materials chemistry, Banerjee represents Kolkata's intellectual talent. 
Last year, Banerjee arrived at UT to begin postdoctoral research in biomimetics, a field that examines design properties and structures from nature.  
"Leafhoppers are insects found all over the trees in Texas," Banerjee said. "If you walk past trees this summer, they might actually fall on you. If so, please let me know, because we are collecting the insects and studying the nanostructures found on their wings and bodies."  
These nanostructures, called brochosomes, shield Leafhoppers by scattering light in all possible directions. Banerjee's project manipulates light to interact with these nanostructures through computer simulations. In doing so, Banerjee pioneers a new field of research at UT. 
"I try to delve even further with my research," Banerjee said. "I'd like to make artificial, anti-reflective coatings inspired by the structure of these materials."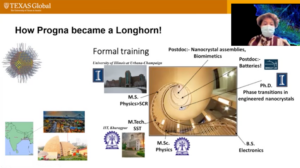 Peter Faull, senior research fellow in the College of Pharmacy, hails from Bangor, a town in Northern Ireland. Near his hometown, a unique lake called Strangford Lough mixes fresh and sea water to house an abundance of wildlife, including orcas. This environment ignited Faull's interest in science as a child.  
As a specialist in an area of analytical chemistry called mass spectrometry, Faull assists UT pharmacology professor Luis Natividad in a project that bridges the understanding of brain biology with psychological aspects. Faull runs the mass spectrometer that precisely weighs biological molecules to quantify how they change between different conditions.   
"During my Ph.D. I actually built one of these mass spectrometers and help modify one to a very specific method," Faull said. "So, I've been doing mass spectrometry studies for nearly 20 years. When I saw this job as a research fellow to run a mass spectrometer for someone doing brain research, I thought I had to give it a shot."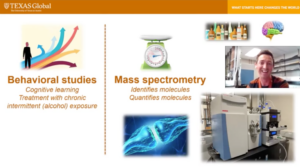 Upon Faull's move to Texas, his coworkers gifted him a membership to the Audubon society, a non-profit organization dedicated to the conservation of birds and their habitat. Whether exploring Lady Bird Lake or cycling at the Circuit of the Americas in Austin, Faull learned to listen for golden-cheeked warblers singing. After spending winters in central America, this entire bird population can be found only in Texas, nesting for four to six months each year.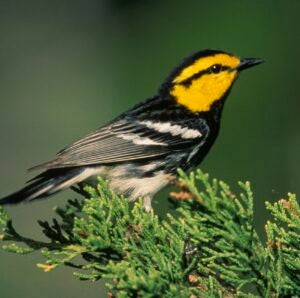 "If you're ever out walking, kayaking or cycling, and you see these little black and white birds with bright yellow faces, the golden cheeks–you'll know that this bird has come all the way from central America to especially be in Texas, which I think is like the international scholars here," Faull said. "We've chosen to come all the way from all over the world, just to be in Texas." 
Are you an international scholar at UT? Volunteer to present at a future Meet-A-Scholar Program by emailing intercultural@austin.utexas.edu.