When asked to describe International Student Orientation in a few words, UT student Chetan Goenka, from Chennai, India said it's "an encouraging, informative, exciting experience."  
Goenka, a management information systems sophomore in the McCombs School of Business, attended orientation virtually in Summer 2020.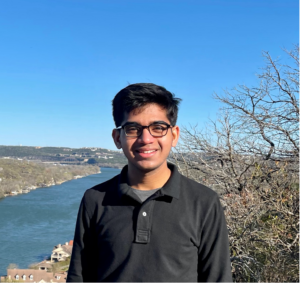 "My favorite memory was attending a session about getting around Austin," Goenka said. "Although I did my first semester remotely from my home country, I made note of all the places mentioned by IOVs. When I came to Austin in my spring semester, I used the maps and tips the IOVs provided us, and it really helped me explore the beautiful city." 
By IOVs, Goenka refers to International Orientation Volunteers: UT students who volunteer each year to welcome over a thousand international students to the Longhorn community. International Student Orientation happens in addition to the freshman, transfer or graduate student orientations required of all UT students. The content ranges from healthcare and student visas to U.S. academic and dating culture. 
This year's orientation events include campus scavenger hunts, tours of grocery stores, and trips to Austin's boba shops, food trucks and public parks. The fun-packed month of August will culminate in a field day and outdoor talent show.  
Goenka, a year out from attending International Student Orientation as student, decided to return as an IOV. IOVs hold mentor meetings to answer any questions with advice. 
"I have been in their position and understand how difficult the cultural shock and homesickness can be," Goenka said. "That is why I wanted to share my experience and help other international students seamlessly transition to UT, make friends, and find mentors."  
Mukesh Kumar, a doctoral student in cell and molecular biology from Chennai, India, attended International Student Orientation five years ago.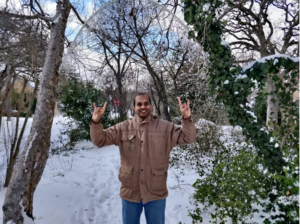 "The memory that stands out was learning about Bevo and Hook 'em Horns," Kumar said.  
Kumar previously volunteered as an international tax assistant before he decided to help incoming students as an IOV.  
"Time flies during the first year when so many things need to be taken care of," Kumar said. "I advise students to live in the moment and enjoy each experience." 
"My one piece of advice to other international students in their first year would be to explore UT," Goenka said. "I highly recommend using HornsLink to shortlist student organizations you find interesting as they will help you find your community and make friends." 
Beyond sharing insider tips about adjusting to Longhorn life, IOVs create a support network for international students.  
"I hope that students are able to make some early friends through these events and use us, orientation volunteers, as mentors throughout their time at UT," Goenka said.