The office of International Student and Scholar Services wishes you a happy winter season! This time allows for rest and relaxation, inspiring participation in holiday traditions. Whether you will relax here in Austin or travel elsewhere, consider exploring new experiences. 
Colorful holiday light shows mirror Austin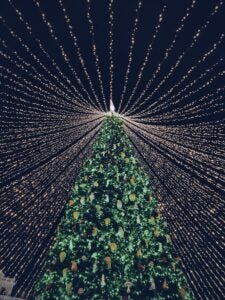 's vibrant nightlife. Grab a toasty cup of hot cocoa at Mozart's Coffee Roasters and enjoy their light show that reflects on the Colorado River. Take a leisurely drive through the Trail of Lights in Zilker Park, or, if you're traveling on foot, walk to the Zilker Holiday Tree and enjoy a funnel cake and kettle corn. You can also walk through Luminations, a lighted garden filled with art, forts and thousands of luminaria flowers at the Lady Bird Johnson Wildflower Center.  
Local art markets connect shoppers to their community. You can shop locally and listen to musicians at the Armadillo Bazaar, an outdoor market creatively named after the state small mammal of Texas. And later, on December 29th, the George Washington Carver Museum and Six Square nonprofit will put on an outdoor Kwanzaa Ujamma marketplace and celebration. Visitors can shop for the work of local Black artists, craftspeople and business owners, and can learn about Kwanzaa through songs and dance with Elizabeth Kahura, a Kenyan storyteller and educator. 
Music fills the Austin air. If you're a classical music fan, consider attending a Ballet Austin performance of The Nutcracker, with music from the Austin Symphony Orchestra. Or watch The Watchmaker's Song, Ventana Ballet's jazzy retelling of The Nutcracker. After Christmas, starting on January 6th—which marks Three Kings Day, a holiday mostly celebrated in Europe, Latin America, and Spain—musicians will fill venues across Austin for the annual tradition of Free Week. Concertgoers attend free of charge! Free Week started in 2003 as a way to reawaken Austin's music scene during the winter when attendance is historically low.
Cool weather makes getting outdoors easy. For some fresh air, take a hike on one of Austin's many trails. Participate in a forest scavenger hunt or an outdoor event at one of the nearby state parks. From the UT campus, walk to the capitol to see their Christmas trees, including the Texas House Chamber tree, which features ornaments from each of Texas' 150 representative districts. And runners all across town can start to train for the Austin Marathon this coming February.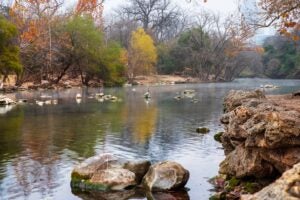 If you're staying indoors, try cooking a meal for friends or exchanging holiday traditions in a storytelling circle. To give or receive a holiday meal, participate in the H-E-B Feast of Sharing, which donates more than 340,000 meals to families across Texas.
Festive fireworks celebrate the new year. The City of Austin will put on a fireworks show for Austinites to safely watch from afar or on television. Visit the Austin Center for Events website for more details.  
Here is a more complete list of Austin events.  
Whatever you do this winter break, we hope this time inspires a wonderful start to your new year and spring semester.