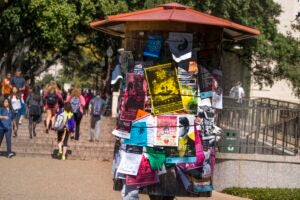 On Wednesday, Feb. 9, the Spring Student Organization Fair will fill Speedway Plaza, 10:30 a.m.-2:30 p.m.
Longhorns boast involvement in more than 1,000 student organizations at UT Austin, so this event is a great chance to explore the wide variety of opportunities.
Whether playing sports, dancing, backpacking in Texas nature, conducting research or more, Longhorns take opportunities by the horns. 
HornsLink, UT's database of student organizations, allows students to explore groups and events with the touch of a button.
In the HornsLink organizations search bar, use the filters to find organizations related to your interests. More than 300 organizations match criteria for the "international" and "cultural" filters.
Many organizations, like the Chinese Students and Scholars Association, the Hindu Students Association and Texas Slavic Club, arrange social and service events for members to gather communally.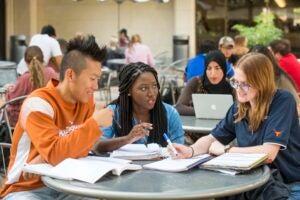 Other organizations offer chances to connect across cultures. The International Student Agency supports international students as a part of UT Student Government. Planet Longhorn organizes socials for all Longhorns from around the world.
UT Pals, a program sponsored by International Student and Scholar Services at Texas Global, offers U.S. and international students a chance to connect with each other and practice language skills in an informal setting. PALS members who speak English or a non-English language also have the chance to hone their leadership skills by hosting a Language Circle. 
Pre-professional organizations, like the Hispanic Business Student Association, the Black Health Professions Organization and Women in Electrical and Computer Engineering offer students the chance to network for professional, academic and social purposes.
Physical practice groups like Texas Taekwondo and Brazilian Jiu Jitsu offer physical challenges in safe and fun environments. Other organizations, such as the Korean Dance Crew, Texas Latin Dance, Hum A Capella and Voices of Afrika encourage creative expression through rehearsals, performances and socials.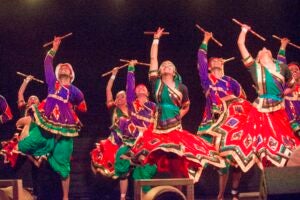 The above-mentioned organizations represent just a few of the many opportunities that UT has to offer for undergraduate and graduate students. Visit HornsLink to see more.  
Serving the campus community since 1916, UT RecSports provides an array of recreation facilities, programs, services and special events.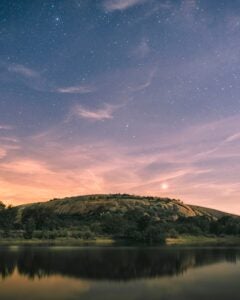 The RecSports TeXercise class schedule is filled morning to night with everything from yoga to Tai chi and Zumba.
Join friends in an intramural sports league and play everything from basketball and soccer to table tennis and dodgeball.
If you're looking to get outdoors, visit the Outdoor Center and rent a tent, an inflatable paddleboard or a hammock.
To explore everything Texas has to offer, sign up for a guided adventure trip to Enchanted Rock, Matagorda Island or Big Bend National Park.  
To expand academically, visit Eureka, UT's research database.
Eureka allows students to find research projects and reach out to faculty with similar interests and regional backgrounds. As UT Austin is one of the world's leading research universities, opportunities for international students are practically endless. Visit the Texas Global website for more about international research on the UT campus. 
International Student and Scholar Services wants to support you in embracing what the Forty Acres and greater Austin have to offer.
Keep an eye out for future orientation events that feature tours of campus, libraries and nearby parks.