Congratulations, Class of 2022! You're Longhorns for life! We are thrilled to welcome you to the global community of UT Austin alumni.
Longhorn Nation has no borders. With more than 530,000 alumni living across the globe, the opportunities to network, support, and engage are boundless.
During our recent Alumni Panel and Resources event for graduating international students, Texas Global teamed up with Texas Career Engagement and Texas Exes to discuss resources available to alumni and how to stay connected. Alumni Stephanie Adeline (B.A. '19), Arturo Isaías Parra Rivera (B.A. '10), Sangeeta Rajgopal (M.B.A. '86) and Patrick Yip (B.B.A. and M.P.A. '87) joined us from Mexico City, Hong Kong, and Singapore to share their own experiences and advice. If you missed the live event, you can watch the recording on YouTube.
Staying connected to the university and alumni around the world will help you find a community of Longhorns wherever you are, build a professional network and access lifelong learning programs to continue your career advancement. Check out the resources below that you can take advantage of as a UT Austin alumnus/a to find support, build your network, advance your career, and stay engaged with UT Austin and Longhorns around the world.
Join the Online Alumni Community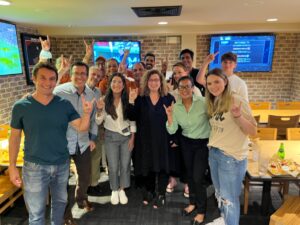 Join the Texas Global group in HookedIn, the online community exclusively for UT alumni. A joint effort of the Texas Exes, Texas Career Engagement, Texas Global and the university's colleges and schools, HookedIn offers a career-boosting community to stay informed on news and events. The platform provides an easy way to post and search for jobs, plus an opportunity to mentor or offer support to alumni and students.
You will automatically be added to your college or school group, but you will need to proactively join the Texas Global group, which is tailored to alumni living and working around the world. To join, click on Groups in the left-hand navigation and search for Texas Global under Groups in the left-hand navigation pane, or find it in the list.
While you're at it, make sure you're following Texas Global on LinkedIn. The Texas Global page provides alumni with a vast international network to stay up to date on the university's global activities, interact with peers and mentors, access career resources, offer advice and share professional opportunities.
Keep Your Info Updated
When you're on the move, make sure we have your current contact information so you don't miss important updates, the latest news, and information about university and alumni events. It only takes a few minutes, and we will keep your information strictly confidential.
Share Your Success Story 
Do you have exciting news or career achievement to share? Let us know by filling out this brief form for us to share in our HookedIn group, on social media or in a feature story on the Texas Global website and newsletter!
Find a Texas Exes Chapter Near You
There are Texas Exes chapters across the United States and in more than 30 countries. Get involved with your local chapter and participate in social gatherings, community service, and professional and business networking events. Membership in the Texas Exes also gives you a number of benefits, including a discount on Texas Executive Education courses.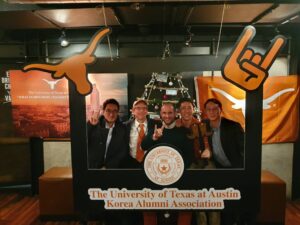 Get Support from ISSS After Graduation
ISSS is still here for you after you leave the Forty Acres! We will continue to be your F-1/J-1 advisor for OPT/STEM OPT extensions, travel signatures, transfer of SEVIS records to another university, archived documents, and general status advising.
You can also extend health insurance coverage and receive non-resident tax assistance, access MyIO for applications and requests, and make an appointment for complex cases or status consultations.
Contact ISSS at hotline@austin.utexas.edu for general inquiries and intltax@austin.utexas.edu for tax-related questions.
Advance Your Career
You can continue to take advantage of a multitude of recruiting, job search, and networking resources and services offered by your college or school's career services office and Texas Career Engagement:
HireUTexas – job and internship board, TCE events, appointment scheduling
Focus2Career – career assessment platform with combined results to explore UT majors and occupations and make informed career decisions
Interstride – resource for international students wanting to work abroad or looking for domestic visa-sponsoring employers; includes job listings and region-specific networking tips
Alumni@Work – video library featuring alumni that covers a range of career content, from exploration to application tips
Contact Us
Don't hesitate to reach out to us at globalalumni@austin.utexas.edu. Congratulations again, and we can't wait to see how you continue to change the world!